25 Best Restaurants In Kensington Area
Posted on
February 8, 2016
Kensington is a prestigious area of West London with popular parks, museums, shopping destinations and other attractions. It is also known for its wide range of restaurants and cafes so we decided to make a list of the most outstanding ones.
From the list below you'll find something for everyone, from Michelin star restaurants to vegetarian cafes and American-style diners.
We, at The London Printing Company, think every single one of them is worth a try…
Snaps & Rye
Snaps & Rye is the only Danish restaurant (and takeaway) in London. They serve contemporary Danish food using carefully sourced ingredients + authentic Scandinavian flavours. This restaurant does not fail to impress. From the cocktails to the wine and obviously the wonderful food. All of their food is prepared in house using the best fresh and seasonal ingredients. The cosy and relaxing environment is also worth mentioning. It's located at 93 Golborne Rd, London W10 5NL, contact info: http://snapsandrye.com/

Babylon at the Roof Gardens
The Roof Gardens is a magnificent place away from the hustle and bustle of London. With stunning views over London from its 7th-floor rooftop garden setting, Babylon at The Roof Gardens serves delicious cuisine and cocktails.  Classic and contemporary British dishes are served and customers are spoilt for choice. The service to complement the food is top notch. It is located at 99, Kensington High Street, London. Contact info:  http://www.virginlimitededition.com/en/the-roof-gardens

Anar Persian Kitchen
Anar Persian Kitchen offers a delightful selection of Iranian cuisine. The menu features dishes such as dolmeh, torshi, as well as salads. The pride of every Persian chef is the grill.  A whole range of Persian stews, lamb, chicken and vegetarian are all cooked slowly over many hours for the herbs and spices to truly infuse together and create an aromatic and flavoursome experience. Three words – delicious, succulent and healthy. It is located on 349 Portobello Road, London, W10 5SA. Contact details can be found at: http://www.anarpersiankitchen.co.uk/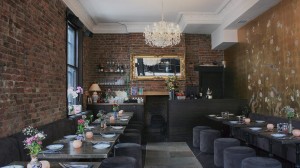 Clarke's
Opened in 1983 by passionate chef Sally Clarke, this award-winning restaurant presents seasonal British cuisine at its best. The menu showcases her passion for high quality seasonal produce. Herbs and vegetables come from organic suppliers, buffalo mozzarella is flown in from Naples twice a week, and shellfish is sent overnight by rail from Scotland. Clarke's London offers an unforgettable gourmet dining experience not to be missed. It is located at 124 Kensington Church Street London W8 4BH. Contact info: http://www.sallyclarke.com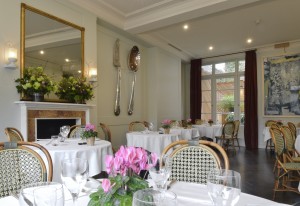 Balans Soho Society
Balans Soho Society Kensington offers  breakfast, lunch  and dinner + morale boosting cocktails. The all-day food menu ranges from breakfast burritos, full Englishes, kedgeree and chorizo con papas to pulled pork sandwiches, the infamous Balans burger, rigatoni, risotto and crab linguine. The evening menu features Thai red curries, quesadillas, duck spring rolls and Maryland crab cakes alongside bellies of pork, rib-eye steaks and sea bass served with crushed new potatoes, spinach and a chive butter sauce. Balans Soho Society definitely brings its bohemian spirit to Kensington High Street.  Located at 187 Kensington High Street, London W8 6SH. Contact information: http://www.balans.co.uk/restaurant/kensington-london/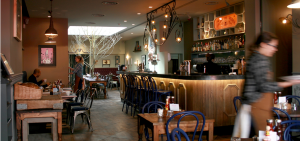 The Blue Corner
Those who are conscious about how they spend their money will love this place.  Customers get to enjoy delicious sandwiches, salads, and snacks. The Blue Corner is proud to serve Italy's best and most recognised Illy Coffee and their teas are from the best quality Dammann Freres, established in 1692. The staff is accommodating and ready to help with a smile. Having won the TimeOut Love London Awards of 2015, the place is definitely worth a visit.  Located at 79-81 Hammersmith Road London W14 8UZ. Contact info: http://www.thebluecornerlondon.com/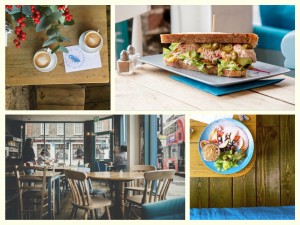 Kitchen W8
This restaurant boasts a Michelin Star. It prides itself on offering more than food and the experience there is remarkable due to the excellent service being provided as well the atmosphere. It has a neighbourhood feel to it but maintains all the characteristics expected of a Michelin starred establishment. One should try out the Iberico pork or the fallow deer on offer. The wine offered is customized to go along with the food. The prices are very fair for the service delivered. It is located at 11-13 Abingdon Road, London W8 6AH. Contact info: http://www.kitchenw8.com/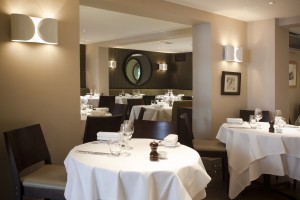 Golborne Deli
The customer service in this diner is superb and is one of its best qualities. The breakfasts are tasty and the atmosphere complements the cuisine as well. Outside seating is also available. Customers get to choose from a menu including fresh sandwiches, salads and cakes.  What many people most enjoy is the brilliant coffee they serve. It is located at 10 Golborne Rd, London W10 5PS, UK.  Contact info: http://golbornedeli.com/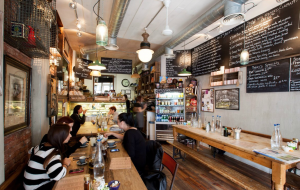 Down to earth
Airy and easygoing organic vegan and vegetarian cafe with organic products, plus pavement tables. It is passionate about organic produce and catering for people with particular dietary needs.Life at Down to Earth starts with a gorgeous breakfast selection. At 12:00, the lunch menu is set to impress even the most carnivorous of tastes. Throughout the day they offer an impressive selection of raw cakes and desserts served with a selection of Organic, Biodynamic Teas or Coffees. For afternoon drinks, you may wish to indulge in a selection of organic wines and beers perfectly accompanied with a selection of small plates to share.  It is located at 240-242 Kensington High St, London W8 6ND. More info: http://www.downtoearth.co.uk/water/

The Ledbury
The restaurant opened in 2005, under head chef Brett Graham. It has gained many accolades including the much coveted second Michelin Star. The airy restaurant is redolent with discreet luxury, as is the menu, which features truffles and foie gras alongside humbler ingredients that are accorded equal respect, such as jowl of pork with fennel, mousserons and elderflower honey or the salt baked turnips served with Herdwick lamb. It is located at 127 Ledbury Rd, London W11 2AQ, England. Contact info: http://www.theledbury.com/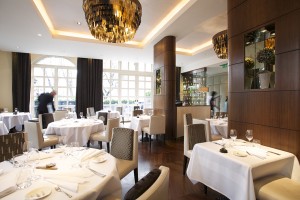 Masala Grill
Masal Grill offers an affordable fine dining experience for those who might want to try out Indian food. The ambience is very cosy with excellent staff. Customers frequenting this place have the kindest of words to share. From the food to the exceptional service by the staff, Masala Grill is indeed a jewel in Kensington. Located at 535 King's Road, London SW10 0SZ. Contact info : http://www.masalagrill.co/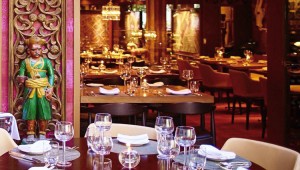 Launceston Place
The restaurant has an exquisite wine list and a delicious British menu. The food is a real treat and has outstanding service as well. The atmosphere in the restaurant is classy and the prices tend to reflect that as well. However, one should not be discouraged to visit the place, as the impeccable service offered is truly first class. The staff is willing to collaborate to create the perfect experience with diners. It is on London W8 5RL. Contact info: http://www.launcestonplace-restaurant.co.uk/

The Orangery
Once the setting for Queen Anne's sophisticated court entertainment, the restaurant is well suited and adapted to the classical 18th century architecture. It is a perfect place for those yearning for traditional English meals such as the afternoon tea. Snacks such as sandwiches, cakes and scones are a delight. There is also exceptional service. It is a pricey place but one has little regrets with the overall experience. To contact, visit: http://www.orangerykensingtonpalace.co.uk/contact/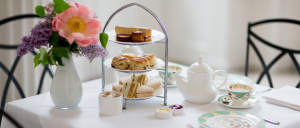 Afternoon Tea at the Milestone Hotel
Customers know this restaurant for its high standards of tea service. The atmosphere in the restaurant is warm and cosy. There are traditional fireplaces with comfortable sofas as well. One gets to have good views of the Kensington Gardens. The sandwiches are recommended to accompany the tea. It is at 1 Kensington Court, Kensington, London, W8 5DL. Contact info:  http://www.milestonehotel.com/food-and-drink/afternoon-tea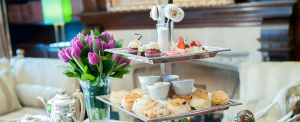 Chenestons Restaurant at The Milestone Hotel
The chef uses organic, locally sourced produce to prepare the meals. The pies are famous as well as the roast saddle of venison and pan-fried sea bass. The desserts are delicious and the staff pays attention to the quality of presentation as well. A wide assortment of wines is also available to accompany the meals. It is located at The Milestone Hotel, 1 Kensington Court, Kensington, London, W8 5DL. Contact info: http://www.milestonehotel.com/food-and-drink/chenestons

Hare & Tortoise
Those with a love for Japanese food will find a home in this restaurant. It offers East Asian food with the frequent customers recommending the Curry Laksa. The service is usually quick and offered at very fair prices. Most of the complaints are concerns about the busy nature of the place, which in itself is a sign of its popularity with people! There is also an excellent selection of Asian beers as well. It is on 373 Kensington High Street, London W14 8QZ. Contact info at: http://www.hareandtortoise.co.uk/kensington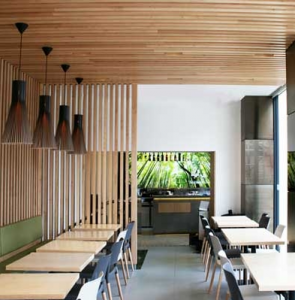 Pizza East Portobello
The newly refurbished diner is now a favourite for many Londoners as it offers an amazing assortment of pizzas and luxurious creams. The term "re-inventing the pizza" is synonymous with the restaurant. One can also enjoy the fillet of beef as well as roast chicken. The breakfast served is also splendid. The atmosphere is pleasant due to the articulate décor making the place to be warm and relaxing for diners. It is on 310 Portobello Road, London W10 5TA, UK. Contact info: http://www.pizzaeast.com/portobello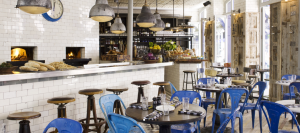 Spaghetti House
Located at the top of the High Street, the restaurant offers a mix of both traditional and modern foods and experiences. It is a small place thus very cosy with a romantic appeal to it. The place specializes in Italian foods. Diners should enjoy the Loch Duart Salmon, juicy steaks as well as delicious pizza. The joint also uses fresh ingredients to cook and as such, customers are served based on a cook-to-order basis. Contact info: http://www.themelodyrestaurant.co.uk/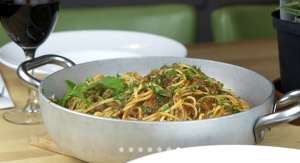 Princess Victoria Kensington
A visit to the place and one is bound to notice the space available. The large windows provide a perfect ambience for dining. With excellent pub management skills, the staff offers great service to complement the delicious meals served at the place. These include roast, fish and chips. The bar also specializes in tasty snacks or tapas for the starter to accompany the extensive collection of drinks and wines. Contact info: http://princessvictoriakensington.com Located at 25 Earls Court Road, Kensington.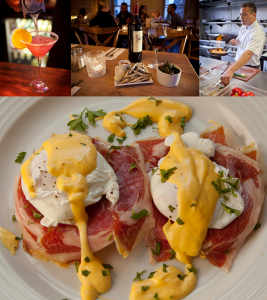 Prezzo
Prezzo is another restaurant that specializes in contemporary Italian cuisine. Its décor is one of its outstanding qualities. The salads are fresh and the pizza and risotto are very delicious as well. The wide selection of cocktails and desserts make for an enjoyable dining experience at the Prezzo. It is on 35A Kensington High Street, London, W8, 5BA. Contact info: http://www.prezzorestaurants.co.uk/

Mediterraneo
Mediterraneo is another Italian restaurant that offers traditional Italian foods for its customers. The staff at the restaurant are usually cheerful and happy to serve with professionalism. One should make the effort to try the Prosciutto and enjoy its romantic feel. Its popularity is evident since its establishment in 1998. Italian wines complement the food served. It is on 37 Kensington Park Road, Notting Hill Gate London, W11 2EU. For more contact information, visit: http://www.mediterraneo-restaurant.co.uk/home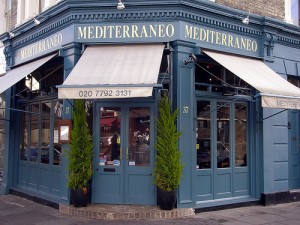 Sticky Fingers
For those who love American food, Sticky Fingers promises to be the place to pass out time. It is an attractive place for tourists as well as Rolling Stones fans. As the name suggests, the food is designed to get fingers dirty and the face sticky! Options on the menu included smoked beef short ribs, BBQ pulled pork beans and the very popular Mac 'n' Cheese. The beer menu is wide and offers plenty of good drinks as well for wine and beer lovers. The atmosphere is very warm as well. Contact info: www.stickyfingers.co.uk Location: 1A Phillimore Gardens, London, W8 7QB.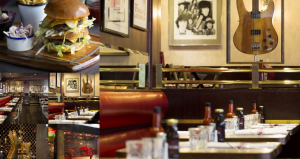 Melody at St. Paul's
The restaurant offers an exquisite array of Mediterranean classics such as seafood spaghetti and vegetarian risotto. The grill served is very delicious and with a complement of the delicious sauces that accompany it. The wines served are a surprise and highly recommended as well. The fish dishes are diverse and reflect the values of the restaurant. The customer service is accommodating and willing to help whenever difficulties arise. It is only a five minute walk from the Barons Court Tube Station. It is on Hammersmith Road, London, W14 0QL. Contact info: http://www.themelodyrestaurant.co.uk/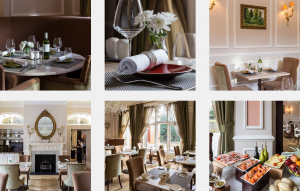 Maggie's
Maggie Jones's has been a favourite haunt among Kensington locals for over 40 years. Cosy, rustic, informal and incurably romantic, the restaurant is tucked away in a little cul-de-sac between Kensington High Street and Kensington Church Street. The restaurant is well renowned for tasty unfussy food served by friendly efficient staff. It is warm, friendly and traditional, with a generous menu full of classic dishes, beautifully cooked. Large banqueting tables make a good party atmosphere and many a romance has blossomed in the secluded booths. It is located at 6 Old Court Place, Kensington Church Street, London W8 4PL. Miore information: http://www.maggie-jones.co.uk/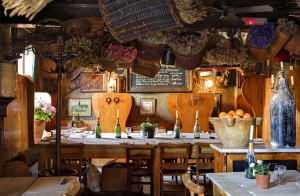 Brasserie Gustave
Named after the famed architect Gustave Eiffel of the iconic Eiffel Tower, Brasserie Gustave is a traditional French cuisine in the Heart of Chelsea. The brasserie is the brainchild of respected industry professionals and front-to-back of house duo, former sommelier Richard Weiss and Chef Laurence Glayzer, who reunite to offer French brasserie classics in a relaxed and informal setting. Serving exceptional French cuisine and a fresh take on the traditional brasseries of Paris. The Brasserie Gustave concept is to deliver consummate culinary classics in a chic yet informal setting, which oozes Parisian heritage and Gallic charm. The subterranean Eiffel Bar offers an exclusive hideaway for before and after dinner cocktails and drinks. Located at:4 Sydney Street, SW3 6PP London, more information: http://www.brasserie-gustave.com/
At The London Printing Company we are proud to support local businesses in West London. So if you are near one of our print studios in Notting Hill or Chelsea pop in and say hello!